💬 Learning In And Through Times Of Crisis, Chaos And Disruption (Part 1)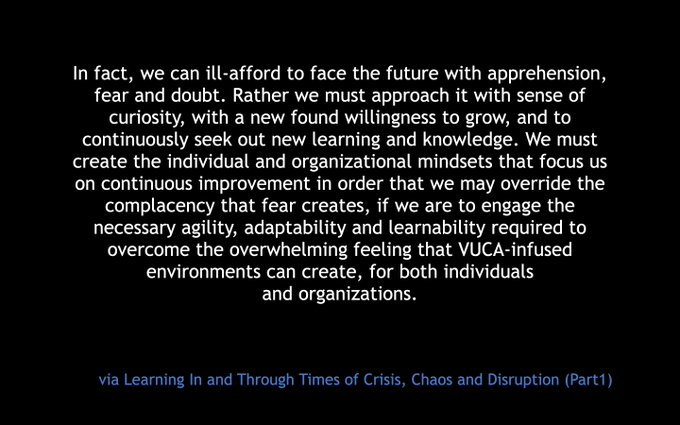 Meesters shares that, "You can divide a crisis into three phases."

Immediate Response Phase – this is the phase that he refers to as happening immediately following the crisis, disaster, etc. It is a time of unity and support. "What you see is that people start helping each other to alleviate the suffering, there is understanding and solidarity." It is also a phase that Meesters refers to as being relatively short.
Relief Phase – this is a somewhat longer and more complex phase, in which, "As time passes, interest starts to flag. It becomes more difficult to sustain all the initiatives that have been developed." Meesters adds that this is a phase of time when the needs and far-reaching consequences become much more clear for the short-term and the long-term. For which he adds, "At the same time, the long-term impact also takes its toll; people become fatigued and energy runs out."
Recovery Phase – Meesters shares, "In the recovery phase, unity disintegrates." This is the phase where the crisis has ended and there is a need to get back on track. "In this phase, difficult choices have to be made." This is the phase where those adaptive challenges, dilemmas and polarities become much more prevalent and visible. Not only is this the longest phase, it is also the phase where, "The unity that was abundant in the first phase disintegrates."

When leaders acknowledge these phases in the midst of a crisis or disruption, it allows for a more intentional design towards learning in these VUCA-infused environments that we find ourselves thrust into.